In this post we will compare Google Pixel Buds vs AirPods
Google Pixel Buds Overview
Workout without the wires when you use these wireless Google Pixel Buds earbuds. Sensors in each bud detect your voice and eliminate background noise so you can take and make clear calls, and water resistance makes these in-ear headphones the ideal fitness buddy. With Google Assistant built right in, these white Google Pixel Buds earbuds help you check the weather or search your contact list with just a tap.
AirPods Overview
The new AirPods combine intelligent design with breakthrough technology and crystal-clear sound. Powered by the new Apple H1 headphone chip, AirPods now feature hands-free access to Siri using just your voice. And up to 3 hours of talk time on a single charge.¹
Key Features
| | |
| --- | --- |
| Google Pixel Buds | AirPods |
| Adaptive sound | |
| Convenient translator in your ear | |
| True wireless headphones | |
| Rechargeable battery | |
| Speed charge | |
| Sweat- and water-resistant | |
| Hands-free calls with built-in microphone | |
| Use your voice in everyday tasks | |
| Bluetooth 5.0 interface | |
| Comfort for your ears | |
| Wireless charging | |
| Simply find your earbuds | |
| | |
Technical Specification
| | | |
| --- | --- | --- |
| Model | Google Pixel Buds | AirPods |
| Key Specs | | |
| Noise Cancelling (Active) | | |
| Sound Mode | | |
| Connection Type | Wireless | Wireless |
| Wireless Connectivity | Bluetooth | Bluetooth |
| True Wireless | Yes | Yes |
| Maximum Wireless Range | | |
| Built-In Microphone | Yes | Yes |
| Carrying Case | Yes | Yes |
| Headphone Fit | In-Ear | In-Ear |
| Adjustable Headband | | |
| Battery Life | 5 hours | 5 hours |
| Battery Charge Time | | |
| General | | |
| Product Name | Pixel Buds True Wireless In-Ear Headphones | AirPods with Charging Case (Latest Model) |
| Brand | Google | Apple |
| Model Number | GA01470-US | MV7N2AM/A |
| Color | Clearly White | White |
| Color Category | White | White |
| Audio | | |
| Noise Cancelling (Active) | | |
| Sound Isolating | Yes | Yes |
| Minimum Frequency Response | | |
| Maximum Frequency Response | | |
| Impedance | | |
| Sound Mode | | |
| Driver Size | 12 millimeters | |
| Connectivity | | |
| Connection Type | Wireless | Wireless |
| Wireless Connectivity | Bluetooth | Bluetooth |
| True Wireless | Yes | Yes |
| Bluetooth Version | 5.0 | |
| Maximum Wireless Range | | |
| Features | | |
| Built-In Microphone | Yes | Yes |
| Carrying Case | Yes | Yes |
| Controls | Call, Track selection, Voice assistant, Volume | |
| Maximum Talk Time | 12 hours | 3 hours |
| Stand-By Time | | |
| Design | | |
| Headphone Fit | In-Ear | In-Ear |
| Adjustable Headband | | |
| Power | | |
| Rechargeable | Yes | Yes |
| Battery Life | 5 hours | 5 hours |
| Battery Charge Time | | |
| Charging Interface(s) | USB Type C | Lightning |
| | | |
| | | |
INTRODUCTION

Google Pixel Buds
These are the new 2020-pixel buzz maybe you've seen them by now and they are way better than the previous ones. That wasn't a very high bar to clear, but they vaulted so far up there now top three favorite wireless earbuds period. Google has finally entered the true wireless market with the new pixel buds or pixel buds Gen V.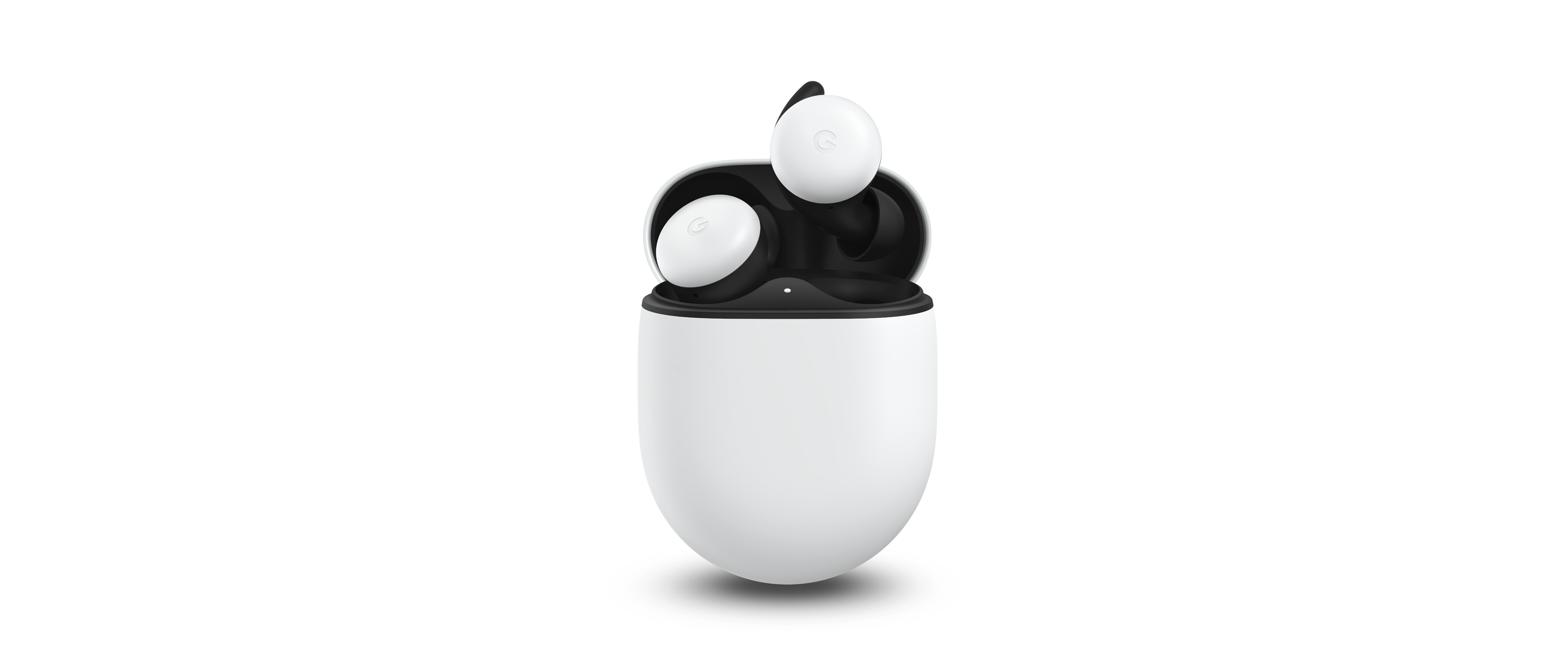 Apple Airpods
These are finally apples air pods they were introduced alongside the iPhone 7 if you remember and then there were a bunch of delays but now they're finally here so in case you forgot what's special about these besides just the fact that they're Wireless is the w1 chip this is new and if you can get past the fact that they look like a slightly larger version of the Apple EarPods with a longer stem.
DESIGN
Google Pixel Buds
It's been rock-solid to use so you can start with the case here it's a sweet soft-touch matte finish and it's got a black and white contrast like the Panda pixel there are matching lights one on the inside and one on the outside and the buds just go right in and snap satisfyingly into place with the magnets pretty easily and they're strong magnets so they're easy to get out but once you snap them in they're not going anywhere and it's got this satisfying snap shut with the magnets.
Apple Airpods
The Apple EarPods in white the only color that they do come. Very neat tidy little packaging. That is tiny it's like a little egg. It's like a magnetic latch you will love that that alone is already assigned to quality cool. So, this is the same size as regular EarPods but now wireless.
BATTERY
Google Pixel Buds
They have a 5-hour battery life and they don't have noise cancellation so, on the surface with just those specs, they're not that impressive at all right you know pretty average battery life and no noise cancellation like some of the other premium buds.
Apple Airpods
It will go around eight hours but what's convenient is again that case it's a big part of using these air pods that cased with the wireless charging you slip it in with the magnets. You snap them into place and you can add three hours of listening time in just 15 minutes so that's about half battery and 15 minutes of charging in there and then you can total about 24 additional hours of listening time by putting them in the case all day so if you commute to work.
FEATURES
Google Pixel Buds
The pixel buds are rounder but right up my alley. Let's get into the charging case because that's probably the most important part of a pair of two wireless earbuds. It's the charging case that sets the good ones apart from the great ones The minimal pocketable easy-to-use design of the first air pods charging case is what made them so successful and Google nailed that here these are as small just as pocketable and just as easy to use so the lid opens up easily keeps the earbuds completely in place and then snaps shut magnetically and that click is great. Lot more than many other Wireless buds can say you know so many times the case is too big or it's not a high-quality but this is a nice case wireless charging USB type-c. All this together that's nice so then we get to the buds these are also white if you want to go a little more low-key there is also a black version and some other colors coming soon but they're also very small to the point where the super low profile in my ear is a nice selling point they don't stick out very far at all like it. Just looks like a little disc in your ear there's no stem and they stay in my ears well thanks to these little mini wingtip things now these are permanently attached to the buds.
Apple Airpods
The w1 chip was introduced for easy pairing of these air pods and anything with that chip to all of your Apple devices without you having to sign in so as long as you have an Apple ID on your device. The iPhone, iPad, and even MacBook pro this will be able to pair with all of them instantly via Bluetooth so this is not the first pair of headphones to come out with this chip the Apple made beats solo 3 had them. The iPhone finds the headphones pairs to them and you're connected just like that with that one button press these air paws are now connected not just to my iPhone but they're ready to play on any of my Apple devices. It's because of all the tech inside because of the mics and the proximity sensors in the autoplay and pause that kind of stuff is cool.
PRICING
Google Pixel Buds
At $179, they're now fully wireless, have improved sound quality, and are the first truly wireless earbuds to offer hands-free Google Assistant voice controls.
Apple Airpods
Apple Airpods with charging case is priced at $249. Apple is going to be charging forty-nine dollars to replace the battery in one of these if they ever go out of warranty you'll need two and $69 if you lose one of these so it's certainly not worth losing because 69 times two is 138 and then you don't even have the case so be very careful with these.
CONCLUSION
The Apple Airpods handily outperforms the Google Pixel Buds, as they should. The Apple Airpods are significantly more expensive. Still, the new Pixel Buds put up a heck of a fight and stands as an excellent option for Android users. No matter which headset you invest in, you'll sure to benefit from a host of novel technology and a very easy-to-use product.