Jaybird Vista vs Powerbeats Pro which is the better wireless earphones? A lot of companies are now producing wireless earphones as earphone jacks have been removed from the new phones. Jaybird Vista and Powerbeats Pro are leading brands that have been producing top wireless earphones. Both the products have similar as well as differing features. Let us check out which is the better buy.
In this post we will compare Jaybird Vista vs Powerbeats Pro
Jaybird Vista Overview
Pair your workout with these black Jaybird Vista wireless headphones. The rechargeable lithium-ion battery provides up to 6 hours of listening time, while the waterproof, sweatproof design helps prevent fluid damage. These Jaybird Vista wireless headphones have ear hooks and three pairs of soft interchangeable eartips for a secure fit and added comfort during extended periods of use.
Powerbeats Pro Overview
Totally wireless Powerbeats Pro earphones are built to revolutionize your workouts. With zero wires to hold you back, the adjustable, secure-fit earhooks are customizable for extended comfort and stability. A reinforced design for sweat and water resistance lets you take it to the next level. Each earbud has full volume and track controls and up to 9 hours of listening time to fuel your training with powerful, balanced sound.
Key Features
| | |
| --- | --- |
| Jaybird Vista | Powerbeats Pro |
| Jaybird app | High-Performance Workout Earphones |
| JBS1 wireless technology | Sound Like a Pro |
| True wireless earbuds | Play Both Sides or Just One at a Time |
| Rechargeable lithium-ion battery | Power. Play. |
| Fully water- and sweatproof IPX7 construction | Wireless That Works |
| Omnidirectional microphone | |
| Three sizes of interchangeable ear gels | |
| Sound isolation | |
| Customizable single-button control | |
| | |
| | |
| | |
| | |
Technical Specification
| | | |
| --- | --- | --- |
| Model | Jaybird Vista | Powerbeats Pro |
| Key Specs | | |
| Noise Cancelling (Active) | | |
| Sound Mode | Stereo | |
| Connection Type | Wireless | Wireless |
| Wireless Connectivity | Bluetooth | Bluetooth |
| True Wireless | Yes | Yes |
| Maximum Wireless Range | 33 feet | |
| Built-In Microphone | Yes | Yes |
| Carrying Case | Yes | Yes |
| Headphone Fit | In-Ear | In-Ear |
| Adjustable Headband | | |
| Battery Life | 6 hours | 9 hours |
| Battery Charge Time | 2 hours | |
| General | | |
| Product Name | Vista True Wireless In-Ear Headphones | Powerbeats Pro Totally Wireless Earphones |
| Brand | Jaybird | Beats by Dr. Dre |
| Model Number | 985-000865 | MV6Y2LL/A |
| Color | Black | Black |
| Color Category | Black | Black |
| Audio | | |
| Noise Cancelling (Active) | | |
| Sound Isolating | Yes | Yes |
| Minimum Frequency Response | 20 hertz | |
| Maximum Frequency Response | 20 kilohertz | |
| Impedance | 23 ohms | |
| Sound Mode | Stereo | |
| Driver Size | 6 millimeters | |
| Connectivity | | |
| Connection Type | Wireless | Wireless |
| Wireless Connectivity | Bluetooth | Bluetooth |
| True Wireless | Yes | Yes |
| Bluetooth Version | 5.0 | |
| Maximum Wireless Range | 33 feet | |
| Features | | |
| Built-In Microphone | Yes | Yes |
| Carrying Case | Yes | Yes |
| Controls | Call, Track selection, Voice assistant, Volume | Call, Track selection, Volume |
| Maximum Talk Time | | |
| Stand-By Time | | |
| Design | | |
| Headphone Fit | In-Ear | In-Ear |
| Adjustable Headband | | |
| Power | | |
| Rechargeable | Yes | Yes |
| Battery Life | 6 hours | 9 hours |
| Battery Charge Time | 2 hours | |
| Charging Interface(s) | USB Type C | Lightning |
| | | |
| | | |
Introduction
Jaybird Vista
Jaybird Vista is the successor of Jaybird Run XT. After two pretty rough experience with the jaybird run and Run XT, Jaybrid can finally save itself from connection issues. Jaybird Vista is designed from the ground up. It has completely different designs from its predecessor. The case is also completely redesigned and is magnetized, thus there is no fear of earbuds falling out. Jaybird Vista is designed for athletes and built for adventure. As a sports earbuds, Jaybird Vista has an IPX7 rating, which allows for intense sweaty workout and giving users the ultimate peace of mind. Jaybird Vista is the smallest earbud of Jaybird. It has a smaller case, which makes use of Jaybird Vista very convenient and easy. It has a wing on top which gives a secure fit. It is comfortable for long, rigorous workouts and does not fall out. It is very comfortable and convenient for workout and gym sessions. You can make the best out of the earphones with the Jaybird app. Overall its a cool looking earphones with good features.

Powerbeats Pro
Powerbeats Pro is the successor of Powerbeats 3. It is the beats only in-ear earphones for sports use. It has splash resistance which makes it usable during an intense sweaty workout. They have over the ear design which keeps them secure in your ear. They keep up the reputation of having the best sound quality. Power beats Pro is built for working out and for moving around. Apple bought Beats, so beats are Apple headphones now. Thus it has an H1 chip which allows for easy pairing with the iPhones. Beats are the most popular headphones. Powerbeats Pro has a comfortable and secure fit and does not fall out of the ears easily. It is also comfortable in terms of listening to music. They have limitations like lack of noise-cancellation, limited noise isolation but they are Apple's most premium workout buds. They are available in four colors Black, Ivory, Moss, and Navy all of which come with a matching charging case.

Design
Jaybird Vista
Jaybird Vista is now the smallest wireless earphones. Instead of just tacking a silicon ear tip onto the end of the earbud, the Vistas use a fully connected casing with ear tip and wingtip for fitting into the inside and upper edge of your ear. It also has a small case. The case is magnetic and the earbuds will not fall off if it is flipped over. The earbuds are smaller than its previous version. It has button control. Bigger press for play/pause or answer the call. Double press to skip forward. Triple press to skip backward. Press and hold on right earbud raises the volume and the same on left earbud lowers the volume. The case has a matte finish and does a good job of resisting fingerprints and smudges. Jaybird Vista has a simple design that looks good. Jaybird Vista has adopted compact design making it easy and convenient to carry it around. The case has a charging space behind it.

Powerbeats Pro
Powerbeats Pro is built like for working out and for moving around. This piece goes over and around your ear and then holds it snugly to hold the earbuds in. This doesn't come off easily. It has a matte black plastic sweat proof. The clamp force wallet is snug. It isn't too tight and the sign of any good pair of headphones is that you can wear them for a long time and after a while, you just kind of forget you're wearing them. These are a good-looking pair of earbuds. Overall just the regular black ones look really good in the ear and they have a nice overall design. It has an over-ear hook design so that it stays in place with no problem. The power beats Pro has a long stem that sits inside of the canal of your ear and that's kind of what helps get that music right inside of the ear. The overall design seems like a no-brainer. It has sports look to it but can be worn outside the gym. One drawback of the Powerbeats Pro is, it doesn't have a low profile. It can easily draw attention.

Features
Jaybird Vista
Jaybird Vista has an IPX7 rating for an intense workout, giving users the ultimate peace of mind. it has JVS1 technology which allows for the usage of either one of the earbuds ie one-sided listening. it is supported by SDC codec along with Bluetooth 5.0. the earbud will automatically power on when taken out of the case and power off when dropped back in the case. it comes with three colors black blue and green. Their app allows you to customize equalizer so you can get more bass or more clarity with the highs. These work for calls as well as they have a microphone built-in. It has type C for charging. The Jaybird app is free for download you can download it play around with it yourself. In the app, you have a bunch of presets. you can select from there or you can customize your own. so if you customize, you can tweak however you want this to go, if you want highs or lows. They have favorite playlists and you people can rate them. So if you create an account you can go in and rate those playlists. They also have a whole bunch of different categories. You can log into your account and then those settings can be backed up so if you go to a different phone or a different device those settings will carry you over it also find my buds it will tell you the last location where your earbuds were connected.

Powerbeats Pro
Powerbeats Pro has a soft touch replaceable ear tip that you can put different sizes on. So instead of having just hard plastic, one size fits all these are soft touch and they fit pretty well and. The case only charges via lightning so no USB type-c and no wireless charging. These have magnets too but it's not quite as smooth.you have to get the angle just right. The seal that you can create with the rubber tip in your ear, clamp force on the side, and them not coming out makes it a rich good sounding pair of headphones. It has physical buttons on them. There are no touchpoints there are real buttons. On the right ear, the beats logo is a button and that can be your play/ pause, double-tap for the next song, triple-tap for the previous. On top of each earbud is a volume rocker. It's simple and easy regular volume rocker and not over-engineered. if you want to use voice control you can. The power beats Pro have the h1 chip in them which means they do that sweet instant pairing with an iPhone or just regular Bluetooth pairing with any Android phone. There's also auto play/ pause when you take them out of your ears and put them back in. They'll also do the Siri voice command if you're into that or if you're on an Android phone you can long-press the beats logo to trigger Google assistant or whatever assistant you use. It has automatic standby if you put them down when they're not in the case. You've got the same controls on both sides just like.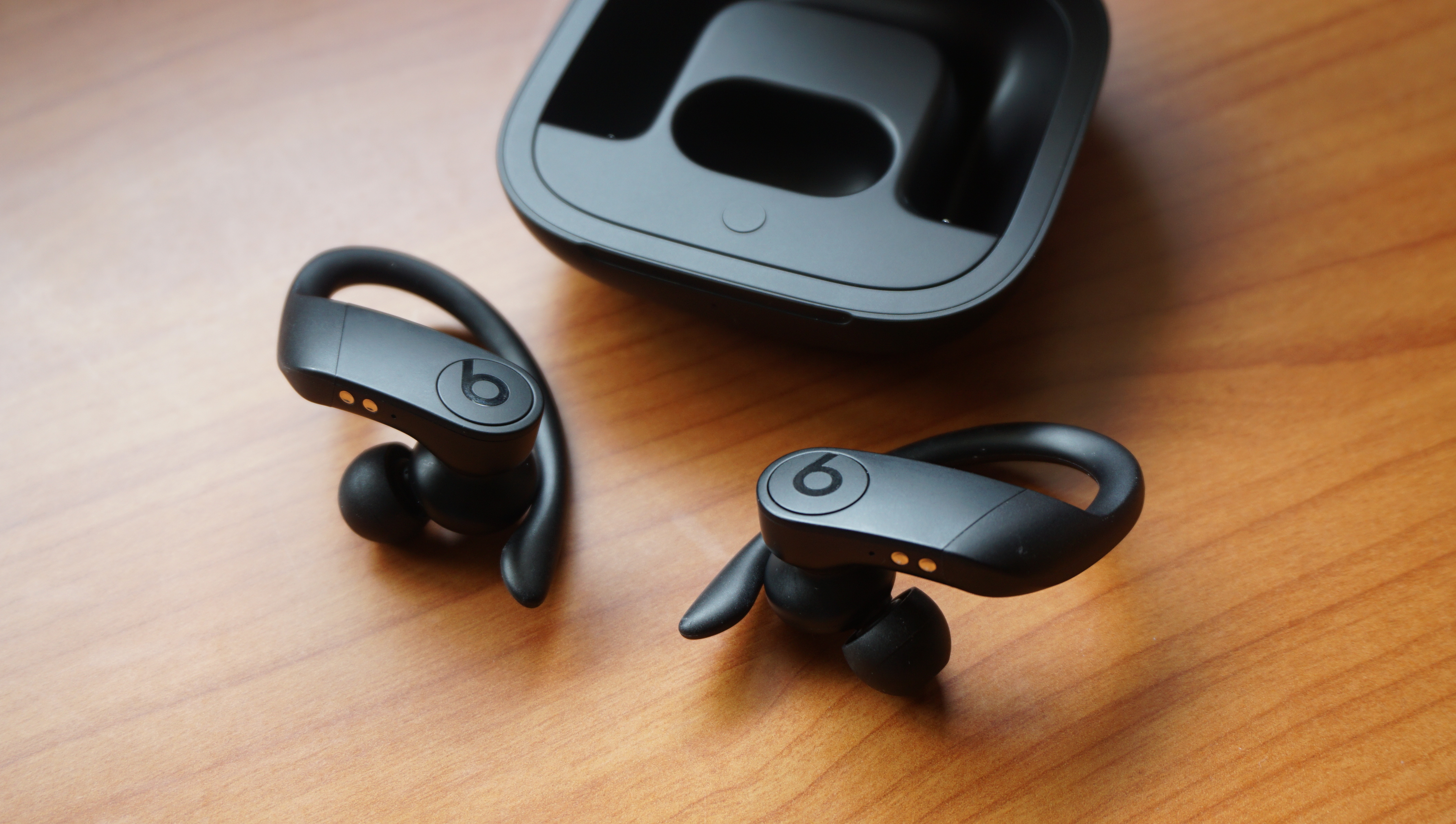 Battery Life
Jaybird Vista
Jaybird Vista gives six hours of sweatproof sport fit. This means that they have six hours of battery in medium volume level and then another ten hours with the charging case. It takes about two hours to charge the case and earbuds. It also has the feature of a quick charge. If your earbuds are completely out of charge, you can keep it the case and charge for five minutes. This will give you one hour of playtime. It also has the feature of one-sided listening. Thus if you use one earbud until it is out of charge, you can keep it in the case and use the other earbuds. This way you will get 32 hours of playtime. Six hours of battery life along with ten hours in charging case is commendable considering the size of the case. It is charged using the USBC type. It doesn't have the feature of wireless charging. The battery life of the earbuds can be increased by keeping the earbuds in the case for charge when it is not in use.
Powerbeats Pro
Powerbeats Pro gives you nine hours of usage on a single charge and with the case, you'll get a total of 24 hours. You can go for like a week without charging if you start with a full battery and a full case. These have a quick charge feature. If they're dead you can drop them in the case for like five minutes and it gets you over an hour of listening time. So when it comes to battery life even though you get 24 hours with the travel cases with the power beats Pro you do get a little bit more initially right from the earbuds and you get a faster click charge. They use lightning cables to charge. When the case battery is less than 40% charged, the LED on the front turns red. If the LED blinks red, you may need to reset your earphones. You can also charge the case without the earbuds. To keep your Powerbeats Pro earbuds charged, put them in the case when you're not using them.
Audio Quality
Jaybird Vista
As with all sports focus earphones, bias on the bass boost and soft signature is expected. The driver does a good job of reproducing mids and highs. The base is strong and boomy but was kept tight and punchy to prevent it from bleeding into other frequencies. If you're not so much of an EDM or hip-hop fan, you'll be glad to know that the vistas also work perfectly with other genres ranging from pop to jazz. You can also customize your EQ setting to get the audio experience of your preference in the Jaybird app, available for download on the App Store and play store. The drivers do a decent job of distinguishing the left and right channels, in sound stage and instrument separation wise. There is a pleasingly wide soundstage for such small 6mm drivers, with a warm and full sound across low, mid, and high frequencies, and the resonance to hear individual notes slowly fading out throughout the track.
Powerbeats Pro
Powerbeats Pro is fun good sounding headphones. They have amazing sound quality, vocals coming clear. It has pretty decent bass, more towards the heavy side. The bass didn't come in and make the sound muddy by any means. What would you expect? they are beats and you are not looking for a flat sound signature. Powerbeats Pro delivers richer, cleaner sound with bass that's not only much bigger but tighter. The Powerbeats Pro has turned down the bass this time around. They're not quite at a flat EQ, but it's like a gentle v-shape that boosts the highs and lows with a slight recess on the mids. It's a smooth curve that music sounds reasonably energetic, but not too slanted. The problem here, however, is that music – and audio as a whole – is relatively subjective. Apple doesn't provide you many tools to alter the sound to suit it to your preference. They also do not active voice cancellation.
Conclusion
Both the case and the earbuds of Jaybird Vista are smaller in size. It is convenient to carry it around in the pocket. While Powerbeats Pro, the case is bulky which makes it look awkward in your pocket. Thus you have no choice but to toss it in your bag and the earbuds are bigger too. It's over the ear design, can cause fatigue to the ears after long use. As music is subjective, our music preference is different. Jaybird Vista gives the option to customize the EQ settings according to our preference. But this feature is not available in Powerbeats Pro. Thus we cannot make any changes. We have no choice but to listen to the music as tuned by the beats, which maybe be just perfect for our preference or may not be even close to it. Considering the features offered by both the products, Jaybird Vista is a better buy as it offers better features, it is comfortable is convenient and is water-proof.