Comparison Review of Sennheiser Momentum True Wireless 2 and AirPods Pro. Sennheiser Momentum True Wireless 2 and AirPods Pro both have the best features making them the best wireless earphones. Let us see which has better earphones and which is a better buy.
In this post we will compare Sennheiser Momentum True Wireless 2 vs Apple AirPods Pro
Sennheiser Momentum True Wireless 2 Overview
Listen to music while on the move with these black Sennheiser MOMENTUM true wireless 2 earbuds. The noise-isolating fit reduces ambient sounds, while the rechargeable battery and charging case support up to 28 hours of music playback. These Sennheiser MOMENTUM true wireless 2 earbuds feature a splash-resistant design, making them ideal for all-day wear.
Apple AirPods Pro Overview
Active noise cancellation for immersive sound. Transparency mode for hearing and connecting with the world around you. A more customizable fit for all-day comfort. Sweat- and water-resistant.¹ All in a super light, in-ear headphone that's easy to set up with all your Apple devices.²
Key Features
| | |
| --- | --- |
| Sennheiser Momentum True Wireless 2 | Apple AirPods Pro |
| Transparent Hearing and Active Noise Cancellation | |
| True wireless | |
| 7-hour battery life | |
| IPX4 water-resistant design | |
| Two beamforming microphones | |
| Bluetooth 5.0 interface | |
| In-ear design | |
| Ergonomic fit | |
| Built-in equalizer | |
| Customizable touch controls for calls, music, and voice assistant | |
| Bluetooth device management | |
| Smart pause | |
| 7mm dynamic driver | |
Technical Specification
| | | |
| --- | --- | --- |
| Model | Sennheiser Momentum True Wireless 2 | Apple AirPods Pro |
| Key Specs | | |
| Noise Cancelling (Active) | Yes | Yes |
| Sound Mode | Stereo | |
| Connection Type | Wireless | Wireless |
| Wireless Connectivity | Bluetooth | Bluetooth |
| True Wireless | Yes | Yes |
| Maximum Wireless Range | | |
| Built-In Microphone | Yes | Yes |
| Carrying Case | Yes | Yes |
| Headphone Fit | In-Ear | In-Ear |
| Adjustable Headband | | |
| Battery Life | 7 hours | 4.5 hours |
| Battery Charge Time | | 2.2 hours |
| General | | |
| Product Name | MOMENTUM True Wireless 2 Noise Cancelling Earbud Headphones | AirPods Pro |
| Brand | Sennheiser | Apple |
| Model Number | M3IETW2 BLACK | MWP22AM/A |
| Color | Black | White |
| Color Category | Black | White |
| Audio | | |
| Noise Cancelling (Active) | Yes | Yes |
| Sound Isolating | Yes | No |
| Minimum Frequency Response | 5 hertz | |
| Maximum Frequency Response | 21 kilohertz | |
| Impedance | | |
| Sound Mode | Stereo | |
| Driver Size | 7 millimeters | |
| Connectivity | | |
| Connection Type | Wireless | Wireless |
| Wireless Connectivity | Bluetooth | Bluetooth |
| True Wireless | Yes | Yes |
| Bluetooth Version | 5.0 | 5.0 |
| Maximum Wireless Range | | |
| Features | | |
| Built-In Microphone | Yes | Yes |
| Carrying Case | Yes | Yes |
| Controls | Call, Track selection, Voice assistant | Call, Track selection |
| Maximum Talk Time | | |
| Stand-By Time | | |
| Design | | |
| Headphone Fit | In-Ear | In-Ear |
| Adjustable Headband | | |
| Power | | |
| Rechargeable | Yes | Yes |
| Battery Life | 7 hours | 4.5 hours |
| Battery Charge Time | | |
| Charging Interface(s) | USB Type C | Lightning |
| | | |
| | | |
Introduction
Sennheiser Momentum True Wireless 2
The new Sennheiser Momentum Trulwireless 2 earbuds are the sequel to Sennheiser's first truly wireless earbuds from back in 2018, which are still regarded by many to be the best sounding truly wireless earbuds on the market. This second-generation boasts industry-leading sound quality, active noise cancellation of 28 hours of listening per charge, improved comfort, and much more. These earbuds seem to have fixed every possible complaint from the originals and maybe early contenders for the best truly wireless earbuds of 2020. These have ipx4 water-resistance these are the smallest and most comfortable Sennheiser earbuds they've ever made. Sennheiser Momentum True Wireless 2 continues the reputation of its predecessors and has amazing sound quality. Amazing features, long battery life, and awsome sound quality make Sennheiser Momentum True Wireless 2 one of the best true wireless earphones in the market.
AirPods Pro
Apple calls the AirPods Pro a new class of headphones. It has active noise cancellation a new feature that Apple invented just for this product. One of the main reasons to get the airport pros over other wireless earbuds is the sound quality and noise cancellation of such a small device. The biggest change is Apple makes in-ears now eliminating one of the best non-ear canals, invading options on the market. Apple has completely redesigned the AirPods Pro keeping in mind the defects of the previous edition. With the new design, it has improved the comfort level and has also eliminated the one size fits all. It now has three different ear tips which you can choose from to get a better hearing experience. AirPods Pro also has updated speaker design which has improved the sound quality. These are hands-down the most refined combination of sound quality comfort and ease of use.
Design
Sennheiser Momentum True Wireless 2
In the case first of all you'll see that it is covered in fabric which is very similar to the first pair. Overall it is a relatively large case compared to like the galaxy buds or the air pods case but it certainly doesn't weigh much more. At the back there is an LED which is your indicator light for your battery levels, you have the USB type-c charging. You have a button right there to check the battery indicator. So you press that and it tells you what the battery level is. On the bottom, there is a nice little label that tells you a little bit about the earbuds. But unfortunately, this does not have wireless charging that's one small drawback. It has a metallic finish on the Sennheiser logo. On the outside of the earbud there which is your touchpad, you can touch it one to three times or tap and hold it all for different functions on each earbud. It is customizable. It looks more textured than it actually is. It's actually very smooth and it feels pretty normal On the earbuds themselves, you'll see that they do have quite a few nodes on the inside. The two larger ones are just four magnets to hold it in the case there and then the other four should be for charging and communicating. On the inside of the earbud next to the nodes you'll see there is a proximity sensor, so these do have the ability to detect when they're in or out of your ears. We have a small LED which is just for basic communication, lets you know when you're in like pairing mode stuff like that. It has a squishy tip that goes in your ear. There are four different ear tip sizes. The earbud has kind of a different design. They have kind of a cross in the middle, which does keep them a little bit cleaner on the inside, keep stuff from getting in there and on top of that it adds a little bit of rigidity in kind of the right way. These do also have active noise cancellation which is what you are using the microphone on the outside for and then on the bottom, there is a little microphone for just phone call. These are pretty compliant but at the same time they're definitely firm enough, they fit in your ear and they seal it really well.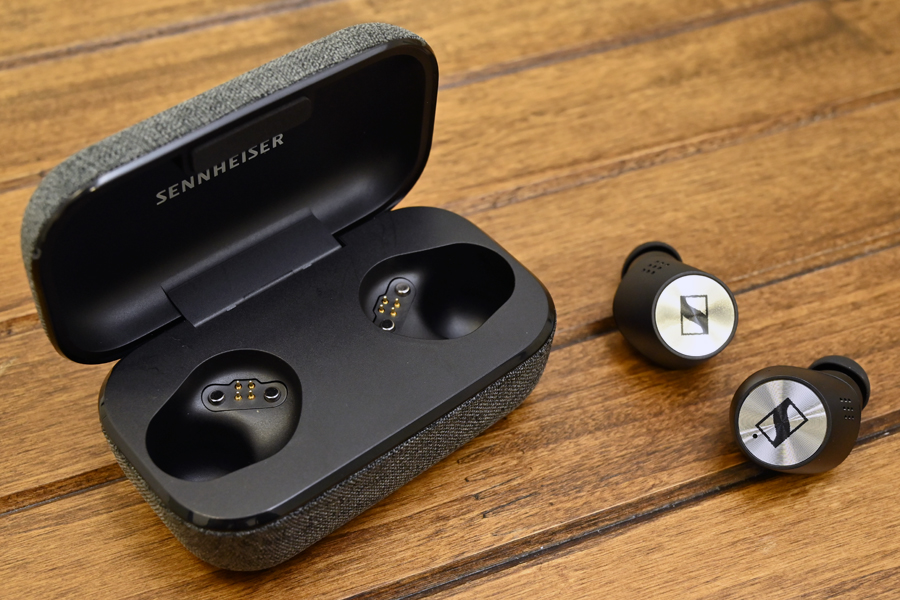 AirPods Pro
The biggest change Apple has made is, it now makes in-ears eliminating one of the best non-ear canal invading options on the market. This change in design means that the sound quality of the air pods Pro is greatly improved. Now that the earbud can form a proper seal of the ear it's unclear whether the better audio is mostly due to that seal or the updated speaker design. The AirPods Pro much like their non-in-ear cousins almost seems to just kind of rest or float in your ear. It's extraordinarily lightweight with excellent force distribution and shorter stems. The experience overall is kind of magical. While many wireless earbuds allow users to tap on them or slide on them for controlling their music, the AirPods Pro has a new control method. You pinch the force sensor in the air pod stem, once short or long twice or three times with the default being a long press for transparency mode but that can be reconfigured to some in Siri. The case is bigger than the air pods, but they easily fit not just in your pocket but in that small extra pocket that keeps them from bumping or scratching your phone or getting scratched by your keys. So they're bigger but they're just as compact as a rolled-up pair of Wired earphones. Wireless charging feels pretty much like chucking my earphones onto my nightstand so this size has made the transition a lot easier.
Features
Sennheiser Momentum True Wireless 2
Sennheiser Momentum True Wireless 2 has ipx4 water resistance. This means they should be okay for basic like if you're sweating or if it's drizzling outside you shouldn't have to worry about these. Don't wear them in like the shower or if you're swimming or something. But these for the most part should be fine. It comes with a USB C charging cable although the charging cable is kind of short. The next feature is active noise cancellation and they also have kind of like a pass-through mode as well, so you can hear things around you. They do a really good job of cutting out the low frequencies and it's a very clean cut as well. So if you're listening to just like static white noise and then you turn on the active noise cancellation it won't go totally silent but what it will do is, it totally cuts out the low end of that and you only hear the high end which tends to be less disruptive when you're listening to music. And also generally high-end sounds get more blocked by the passive noise cancellation of the earbuds themselves. So if you are on like an airplane or a loud train or something like that these definitely do a really good job of removing like engine sounds and traffic sounds and a lot of the ambiance that may be bothersome when you're trying to focus or listen to music. The next feature is the auto-play auto-pause feature. So when you put these in or take them out of your ears they should automatically play and pause. And one drawback here is actually the way these connect to your phone. So they don't individually connect instead you have like the master bud slave connection as they call it, where one earbud connected to your phone and the other earbud is connected to that earbud. If you're wearing only one earbud because you're worried about hearing your surroundings you really shouldn't have a problem with these earbuds because they do have transparency mode. But if you want to take one earbud out after wearing them for maybe like three hours and it gets uncomfortable and you want one ear to kind of air out and just stop being uncomfortable that's why you would typically do that and you can't do that with these earbuds. The last claim on the box is that these are the smallest and most comfortable Sennheiser earbuds they've ever made. They are relatively small and they definitely are very comfortable. but they're not as small as the galaxy buds. There are actually many others out there that are smaller. When you put them your ears they do stick out pretty far on either side so they're a little bit larger maybe the smallest for Sennheiser but certainly not the smallest earphones in the market. In the Sennheiser app here you'll see that it is actually pretty straight forward. At the bottom, you can turn transparent hearing on or off. Transparent hearing sounds pretty good, you hear your surroundings pretty naturally it doesn't sound especially bad or weird and it definitely serves its function. The equalizer is similar to what we see with other earbuds. You can tweak it to suit your preference. In the settings on the top right, you can turn on or off all these different things, except auto-accept call and you take the earbuds out, active noise cancellation, smart pause You can also go into earbuds customization and if you tap and hold for two seconds it'll show you what all of the controls are. The touchpads on the left and right work independently. And something really cool about these earbuds that you don't have with most other earbuds on the market is you can fully customize all of the controls. Not just the tap and hold and triple tap. You can choose the single tap on either one to be play or pause or if you want the voice assistance.
AirPods Pro
AirPods Pro has three different modes. First is off which it sounds like you've put something in your ears that's blocking the sound from coming in. There's a transparency mode that uses microphone magic to let you hear the sound that's coming from your ear pods as well as outside it and lastly, there's a noise cancellation mode which blocks out the sound outside the air pods and lets you only hear what's playing from it directly. Active noise cancellation is a new feature that Apple invented just for this product. With ANC is uses outward-facing microphones to detect consistent external sounds like background noise. They then create an equal and opposite audio signal which cancels out the first one it usually works great in environments that are noisy in a consistent way like the cabin of an aircraft. But when it comes to unpredictable punctuated sounds like human voices it tends to struggle. Apple says that they've innovated is, by also equipping the air pods pro with inward-facing microphones to detect sound inside your ear canal to ensure that the active noise cancellation is working correctly. Apparently, the air pods pro sample audio 200 times per second and then adjust the AMC, so you're only hearing what you're supposed to hear. The ANC on the air plods pros is pretty fantastic. It activates as soon as you put them in, even if you haven't paired them to anything yet, and hearing the sound of the world just kind of get sucked away. This feeling is similar to the effect that you'll have heard if you've used full-size headphones withANC before. But it's also different in a way and there's something special about having that ANC effect while only feeling a small pressure in your ear canals instead of a giant clamp on your head. Also found the brain pressure sensation that some people describe feeling while using noise cancellation is very subtle on these compared to many of the over-ears perhaps due to Apple's included pressure equalization vents. You switch between noise canceling and transparency by squeezing and hold at the bottom of either air pod. Squeeze it once for play or pause double squeeze to go to the next track and triple squeeze to go to the previous track. The AirPod pros are special because of seamless noise canceling and transparency thing that it does, barely any wireless air but can do it, not as small as the airport pros and very few headphones in the entire world can do it at all. More importantly, the AirPod Pros do it pretty well. You know you wear headphones to be fully engaged in your own world of music or whatever you're listening to but sometimes as you walk around the real world you run into a friend and they start talking to you and you need to hear what they're saying. With other headphones, you might have to take them off or pause the song or something. with the AirPod Pros, you just switch to the transparency mode. It's simple. If you do want to take the headphones off though music will automatically stop playing and will resume as soon as you put it back in. It comes with three different buds, large small and medium. So if one doesn't fit your liking you can just put on a different one. They aren't like regular buds. These are apples special-made buds that you can't get anywhere else. So if you lose it you can't just replace it with regular buds like you can with a lot of headphones. You'll have to buy apple's replacement buds. If you have an Android phone and you aren't sure how the air pods will work with it then, you should know there are only really like two differences between the airport pros for Android and airport pros for iPhone or Apple devices. First is the way they pair. Second is the way you can mess with their functions. Apple likes to do some funny stuff so you can mess with the sound settings on like iPhones and iPads but not on other devices like Android phones. The sound customizability settings they give you are not that great though so you won't really miss this on Android. The default mode sounds great on both iPhone Android Windows Mac etc. You can also check the battery on the airport pros with Apple devices but not on other devices. that's how Apple designed it. However, in true Android fashion, you can just download an app that solves that problem. The only other thing is that you can cycle through different modes from noise-canceling to transparency mode on Apple devices but you can't do that on Android, but you actually can since all you have to do is squeeze and hold the bottom of AirPod stem.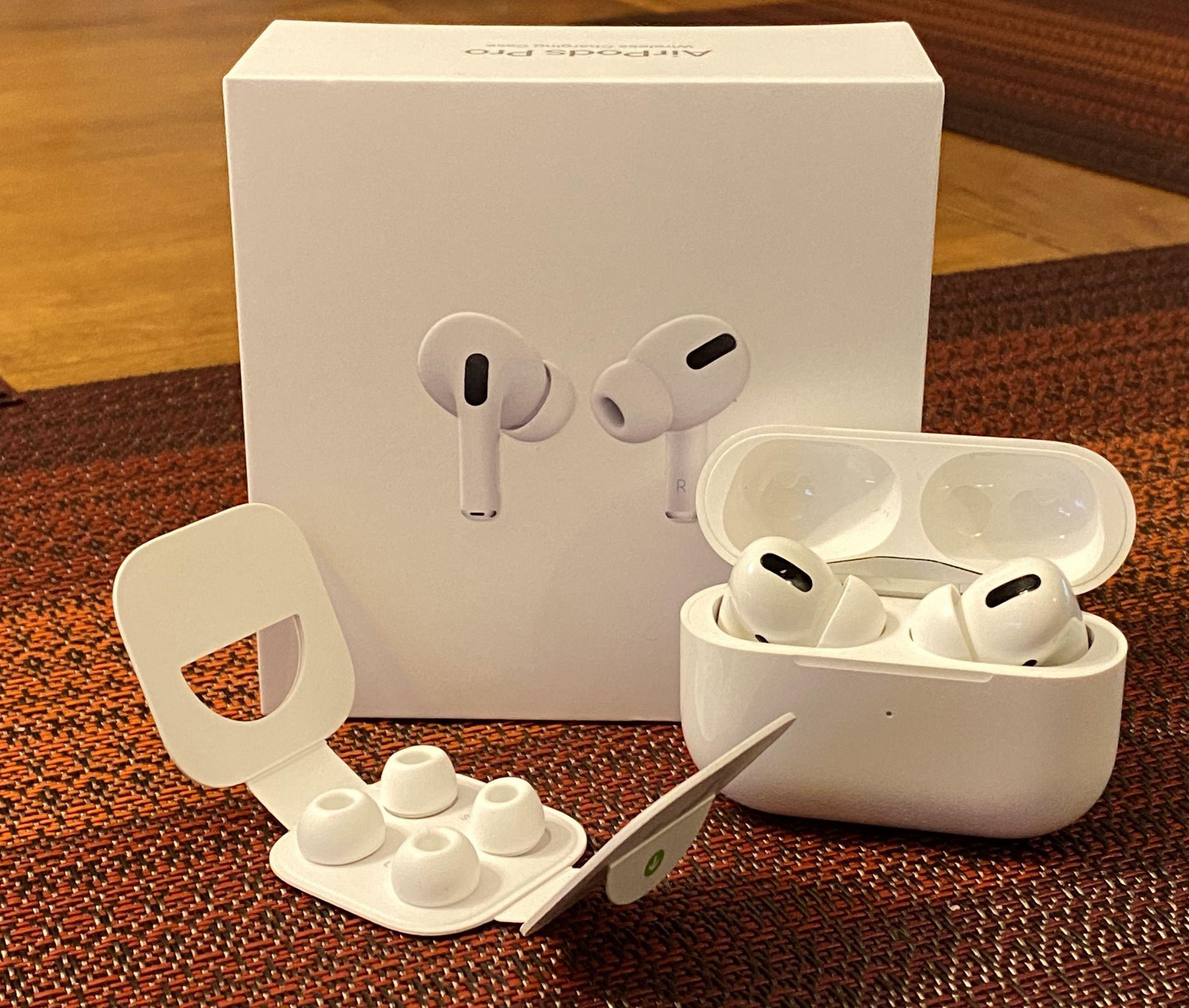 Battery Life
Sennheiser Momentum True Wireless 2
Sennheiser Momentum True Wireless 2 claims to have seven hours of battery in each earbud and twenty extra hours in the case. So in total twenty -eight total hours of listening which is longer than the Galaxy buds which have claimed twenty-two hours and longer than the air pods Pro which have a claimed twenty-four hours. They definitely last a very long time and twenty-eight hours with the case is absolutely incredible. Seven hours on the earbuds is definitely good enough. There are some better ones out there but assuming, you take them out of your ears every six hours, then the cases where you really start to win there. With twenty-eight hours once you include the case that's a very long time to be listening to music. These do not have wireless charging on the case which is disappointing for people who like having a charging pad and just drop these on there, that way you don't to worry about plugging them in and like having wires all over. But you cant have it with the Sennheiser Momentum True Wireless 2.
AirPods Pro
You can use AirPods Pro all day as long as you put it back in the case at times. Compared to most other wireless earphones the battery life is good or on par, but you won't hear anyone bragging about the airport pros battery life like they would with something like the power beats Pro which just does not know how to die. As far as charging goes the case uses a lightning cable but it also has wireless charging. It goes from 0% to 100% in about an hour and a half while it's charging. To charge the air pop pros themselves all you got to do is put it in the case that has some juice or IOS charging. They go from 0% to 100% in about 60 minutes but that won't take the entire case's battery back to 0%. A full charge from the air pods only takes about 20% from the case and the life of the AirPods themselves seems to be about five hours of non-stop listening. With noise cancellation sometimes it's closer to four hours. As long as they're used together, it will give you about 2 days of battery life.
Audio Quality
Sennheiser Momentum True Wireless 2
The first thing that you'll like is how well the balance translates to all different volumes. So with these, it's almost hard to tell what volume you're at especially when you have active noise cancellation on, because all the volumes as you go up and down have like a very similar balance, and it sounds really good. They have excellent low-level detail. They also sound very rich and very well balanced. So just right out of the box and just listening to these they almost need no EQing at all. They do have an EQ in the app. But you may want to tweak it very slightly but for the most part, it already sounds really good. It's warm and pleasant and you also have really good attention, you have really good detail, low-level detail in different instruments. A band like Dave Matthews Band that has lots of instruments in there, you still get a lot of clarity, that a lot of other buds really don't give you. Audio quality can be somewhat subjective based on your ear shape or what your ears are able to hear and what kind of music you listen to as well as what you like to hear in music. but with the older earbuds as well, these definitely have an incredible sound quality that is really kind of unmatched by many other pairs of earbuds. So if you are looking for the best audio quality, these are definitely a winner. They sound really good. These also do have Qualcomm AFT X which should be really good for your audio quality if you're trying to listen to a title or other hi-fi music.
AirPods Pro
The new air pods Pro has fuller mids and more bass all without being overpowering. These can get loud at 65 to 75% of volume. Bass in the AirpodPro is definitely better than the previous AirPod because of its seal. It sounds good without distortion. But it would be better if it was a little bit deeper. The mid-range is clean. It's where you have lots of instruments and vocal work. It is distortion-free. It is not pushed forward or bright yet not underwhelming either. It's clear than Powerbeats pro. It doesn't sound suppressed or pushed too far forward. it is very transparent and vocals cut through right into your ears. The mid-range lacks a bit of sound stage. airiness and width of the audio interpretation are not big. Apple plays it super safe and provides an audio signature that's soo well rounded and clean. But those who are looking for the uniqueness that makes an audio brand spin out, it missing here. The audio doesn't sound full or emotional.
Conclusion
In AirPods Pro, there are a handful of Android pleb inconveniences such as no first-party battery life reporting, no support for remapping the four sensors to summon Google Assistant. Sennheiser Momentum True Wireless 2 on the other hand is compatible with all the devices. Airpod Pro has restricted equalizer setting only for Apple devices. Sennheiser Momentum True Wireless 2 has a better quality of music, longer battery life, and better sound optimization option. The only drawback of Sennheiser Momentum True Wireless 2 is it doesn't have a wireless charging feature. Other than that it has better features than Airpad Pro. Most importantly it has a better sound quality than AirPod. In terms of controls also Sennheiser Momentum, True Wireless 2 has a better control system than AirPod Pro. Thus considering all the features, of the two products, Sennheiser Momentum True Wireless 2 is the better buy.