The Asus TUF H3 Gaming and Corsair HS50 are an analog headset there is no extra software to look at so we get to the comfort and sound quality and features directly. The Asus TUF H3 Gaming headsets come with unbelievable comfort and durability for gaming enthusiasts who play or stream for a long period. The Corsair HS50 Stereo Gaming Headset produces exceptional comfort, superior sound quality, and features and also comes with rugged metal structural components to guarantee large course durability. By the end of this review let us understand which headset has sufficient features and which the greater buy is.
INTRODUCTION
ASUS TUF H3 GAMING HEADSET
The Asus TUF H3 Gaming headset for PC, Xbox One, PS4, Nintendo switch highlighting 7.1 surround sound with a lightweight design, deep bass, and fast cooling ear cushions. The 50mm Asus Essence drivers and exclusive sealed chamber technology deliver a pleasant audio experience. The Analog microphone gives precise in-game information. The gaming headset has a mic with a unidirectional boom microphone and control buttons on left ear cups for mute and volume control. The design is lightweight so it ensures comfort for gamers. The stability and durability of the headphones come with a hard stainless-steel headband and yoke. The Asus TUF H3 Gaming headset comes with built-in Rog Armory 2 software for the setting of EQ and audio profiles of the application.
CORSAIR HS50
The Corsair HS50 Gaming Headphones provide exceptional comfort, sound quality, and persistence required for hours of game play. Rich lather and flexible ear cups provide outstanding comfort. The sound quality comes with a wide range of accuracy which is a uniquely tuned, 50mm neodymium speaker. The Corsair HS50 comes with rugged metal structure components to guarantee long term durability. Audio drivers and microphone have been tested with crystal clear communication and excellent sound. Simple access on-ear volume and mute controls. The unidirectional microphones reduce ambient sound for improved voice quality and are easily detached. Compatible on Xbox One, PS4, PC, Nintendo Switch, and mobile devices.
DESIGN
ASUS TUF H3 GAMING HEADSET
The Asus TUF H3 Gaming headset is specially designed for gamers who extend the game for long periods. It has a lightweight frame having cooling ear pads with stainless-steel headband, 50mm ASUS Essence drivers, and also has airtight case design. The lightweight design of just 294 grams of the Asus TUF H3 Gaming headset gives good comfort for gamers. It comes with a closed-back design. The aluminum forks attaching the ear pads to the headband are rock-solid. Plus they're accessible in different colors. The ultimate comfort is obtained from the fast cooling ear pads which have protein-leather and fast cooling-memory foam. To withstand the harshness of intense gaming, the headband is made of stainless steel. It's a comfortable fit for all shapes of heads and ears.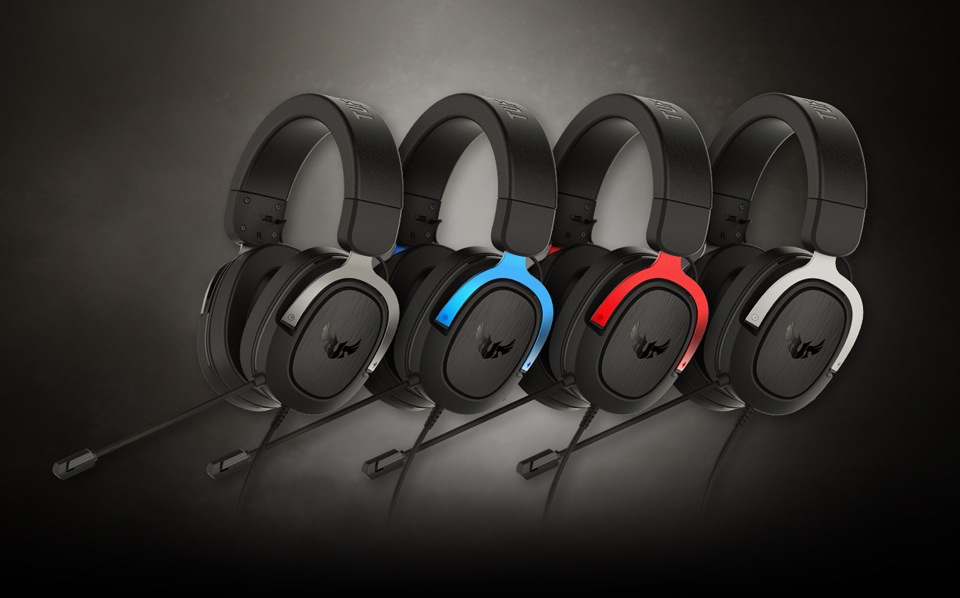 CORSAIR HS50
The Corsair HS50 is a large headset that simply fits around the ears. They are more very comfortable to wear. It has a memory cup that is covered with faux leather that smoothly squishes against the head without applying much pressure and then instantly goes back into the proper position when removed. It is more of a touch set with large metal curves that connects the cups to the headband. It is also flexible and fits all kinds of heads. Moreover, the headband has smooth faux leather with color-accent stitching on the material inside and has a Corsair logo on the top. It comes with three different colors blue, green, and carbon. The metal base makes the headset stronger. It is a wired, stereo headset with a cable that comes out of the left ear cup. As Corsair HS50 uses standard audio jack, it can be plugged with Smartphone's, PC, console games, and many more.
FEATURES
ASUS TUF H3 GAMING HEADSET
The technology used here is Asus essence drivers and alright chamber. The virtual 7.1 surround sound technology gives an improved level of audio accuracy. This doesn't mean that it's permanently running Dolby DTS headphone or any other surround algorithm. Headphones are wired and foldable over the head. The EQ settings amplify the bass and high frequencies without compromising the clarity or shaping the EQ shape. It's also a sweat-proof headset. In the Asus TUF H3 Gaming headset, there is no need for another headset for console gaming because it supports PC, Nintendo Switch, Mobile phone, PS4 Xbox One, and MAC.
CORSAIR HS50
The Corsair HS50 includes a y-adapter cable – a female 4-pole 3.5mm to dual male 3-pole for PC use. It is compatible with Xbox One, Nintendo Switch PC, and mobile devices. It does not extend wireless connectivity or 7.1 surround sound. The left ear cup has buttons that control the volume and it also mutes the microphone. It does not have a noise-canceling feature that separates noise from the ambient environment. This wired headset is not compatible with Bluetooth. Like most of the wired headphones, the Corsair HS50 nearly has no latency. It is suitable for watching videos and gaming without any delay between the video or audio.
MICROPHONE
ASUS TUF H3 GAMING HEADSET
The Asus TUF H3 Gaming headset has a boom microphone that is tuned especially for clear voice communication. It is also certified for leading communication apps. The buttons on the ear cup can be used to control the volume or mute the microphone. The analog microphone produces clear in-game communication. The microphone driver size is 50mm. The Microphone impedance is 32ohm. The microphone quality of the Asus TUF H3 Gaming headset is decent. It works with all consoles and PCs. It clearly pics the breathing out and background noise.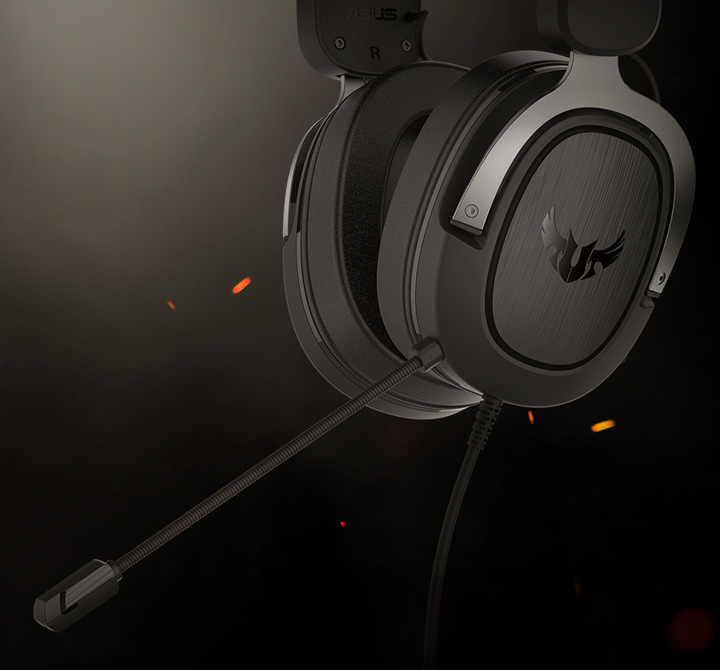 CORSAIR HS50
The Corsair HS50 is a closed-back gaming headset with a detachable boom microphone. The boom microphone is excellent at nose handling. The optimized unidirectional microphone reduces noise from the surroundings and improves sound quality. The microphone impedance of Corsair HS50 is 2.2k ohms with a unidirectional type of noise canceling. The microphone frequency ranges from 100Hz to 10 kHz. The microphone sensitivity is -40dB (+/-3dB). The microphone is very compact, but its size doesn't affect the recording quality. The recording sounds are loud and clear when played online, and the local recording is also very fine.
SOUND
ASUS TUF H3 GAMING HEADSET
The airtight case and 50 mm ASUS essence drivers give clear audio and strong bass which gives natural sound. The Asus TUF H3 Gaming headset improves the game sound and gives a better experience for the user. The Asus TUF H3 Gaming headset offers fresh mids and clear highs, with an insignificantly overpowered bass that gives you more immersion in gaming without disturbing the bass. It has an impedance of 32ohm and the maximum frequency response range of 50 Hz – 10000 Hz. The 7.1 surround sound works well in the Asus TUF H3 Gaming headset. It offers usage of Windows Sonic for 7.1 shenanigans, of which any 3.5mm wired set of headphones can also get support.
CORSAIR HS50
The Corsair HS50 has 50mm neodymium speaker drivers that bring better sound quality with a broad frequency range and accuracy. The audio drivers and microphones are tested and evaluated for clear communication with excellent sound quality. Corsair HS50 has a sensitivity of 111dB (+/-3dB). The sound produced is very precise and firm without any disturbance in the bass. Hence Corsair HS50 is capable of handling movies, music, and running media on your console or computer or using the headset with the Smartphone.
WHICH TO BUY?
In conclusion, Corsair HS50 has a lot to choose firstly in terms of the price point. Corsair HS50 is quite expensive than Asus TUF H3 Gaming but is worth the features and comfort. It provides comfort, sound quality, and durability needed for hours of gameplay. Corsair HS50 is compatible with multiple platforms which is an added advantage. It is certified by Discord Channel which is a gamer's hub, the user's feedback provided here has more authority on the gaming consoles. Corsair HS50 has easy access on-ear volume and mute controls for adjustments on the pop-up. Thus if you are looking for powerful true wired headsets Corsair HS50 is the better buy.