This is the comparison review of Sennheiser Momentum 3 Wireless and Sony WH-1000XM3. Both are premium headphones that have features that are similar and also which are not. with this review, let us see which product has better features and which is the better buy.
Introduction
Sennheiser Momentum 3 Wireless
The new Sennheiser Momentum 3's have been packed with a whole bunch of new features to help them stay competitive with some of the most popular ANC headphones. It is the third generation of Sennheiser Momentum Wireless Headphones. These headphones do have some quirks, but they also have some very unique features to them that may appeal to Android user audiophiles that just refuse to give up their audio jacks. The Momentum 3's have a whole bunch of new features packed into them that just aren't found on the outgoing momentum 2's, which ultimately is a good thing but some of these new features might be just gimmicks in some of your books which you might feel indifferent about. These headphones really do sound great but more importantly, these are one of the few headphones out there where you can use its USB C port as a wired connection.
Sony WH-1000XM3
Sony WH-1000XM3 is Sony's noise-canceling Bluetooth headphones. They have an industrial design that doesn't really set them apart, and a brand name that only a computer could love. The WH-1000XM3's is Sony's premium ANC headphones. The most important number in this jumble of characters is three. This is the mark three, third generation of this product line and it carries forward all the stuff from the first model. The most important update in this third-generation headphone is the USB-C charging. You can now charge your computer, tablet, phone, and now headphones with one cable. With Sony WH-1000XM3 you get to experience the best noise cancellation technology. It blocks out the outside noise so you can enjoy your music without getting interrupted. It can only be connected to one device at a time. Sony still refuses to add simultaneous multi-device connectivity so that you can easily swap from one device to another like you can with a lot of other headphones out there.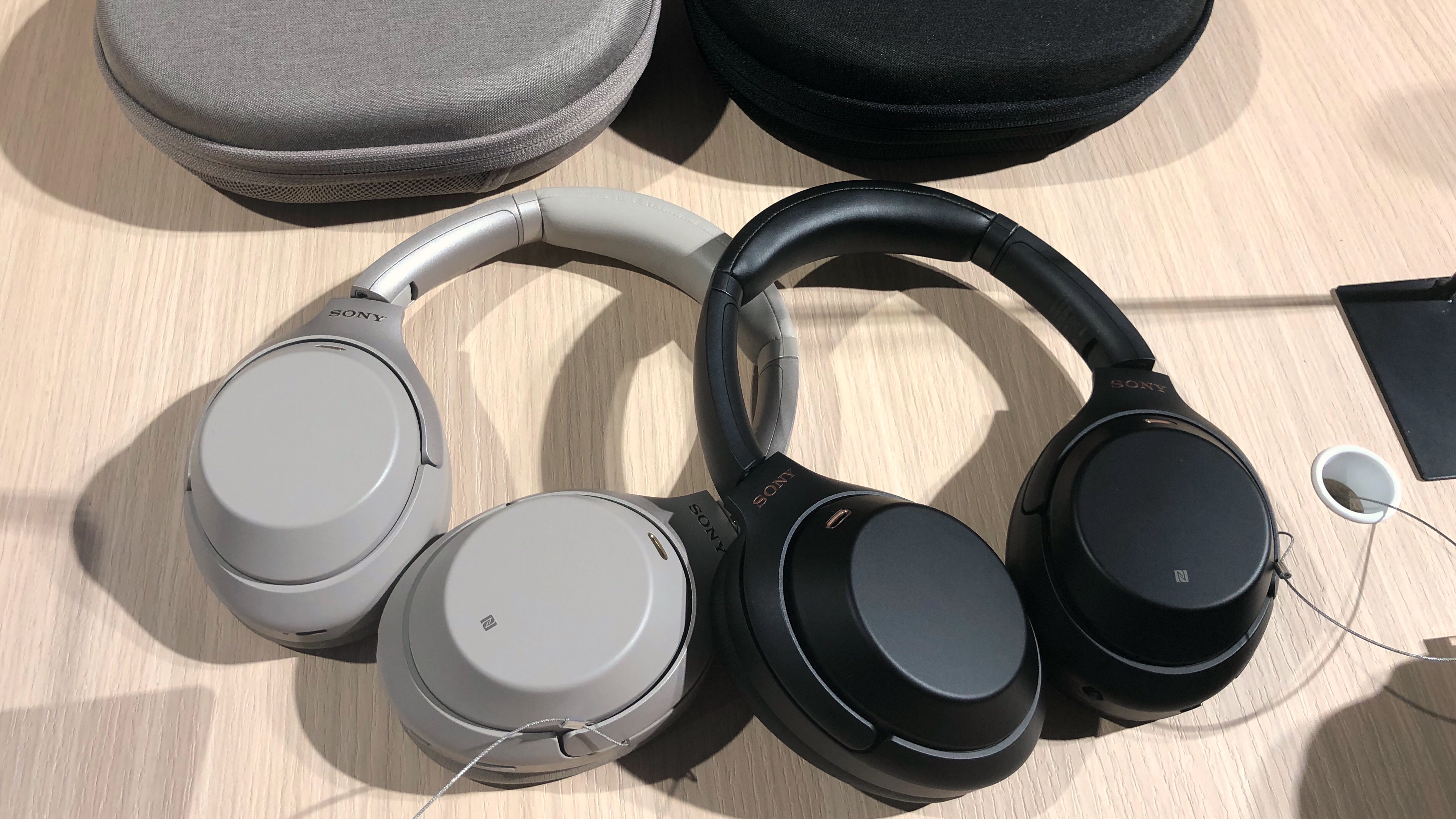 Design
Sennheiser Momentum 3 Wireless
Along with the headphones you also get carrying case. Unfortunately, the momentum 3's carrying case is pretty lackluster. Quality-wise it feels good, but from a practicality standpoint, this carrying case isn't going to protect your headphones as well as hard shell carrying case which usually comes included with other premium ANC headphones, and its really just a floppy mess. It is a hassle to put your headphones away and sometimes your cables end up falling out. The case is flexible and in no way is crushproof. If you are a frequent traveler, this is not gonna survive in an overhead where people are throwing things on top of it, and putting underneath the seat of your plane it's gonna get crushed. Thus it is a little disappointing given the price point for these headphones that Sennheiser would create something like that. The Sennheiser Momentum 3 Wireless has a modern/retro look. The wires are exposed and you can see them on each side. On the inside, you'll notice that the cups each have a label right and left. They have some flexibility so they move, but they do not fold out and that's kind of a miss. On the sides, you'll notice that you can slide them up and you can slide them down. Since they're friction-based you don't have to tighten any knobs. All you have to do is move them up and down and they'll basically lock in place. It has button controls.
The band is pretty flexible. It has some memory foam and has a spacer. The spacer is here to allow for cooling over your head. These are a little bit heavier than some of the other headphones, so having this spacer here does keep it cool when it's resting on your head. The Momentum 3's are using real sheepskin leather on both the headband and ear cups and the real leather on these headphones just feels nicer and smoother than the synthetic leather found on the Bose NC 700's which feel great, to begin with, but the leather on the Momentum 3's feels miles better than the plastic feeling synthetic leather found on the Sony 1000XM3's. One thing you have to be careful about is its sharp edges. Since these are metal and there's a metal finish on each side if you do rest your head on the side of a plane or you're on a bus and you rest on the side, there are high chances of getting scratches and dents.
Sony WH-1000XM3
The 1000XM3's comes included with a decently small carrying case that also has a compartment. So that you can keep your included accessories nicely organized in the case. The casing of the right-side ear cuff is still a touchpad. So you can adjust volume, skip tracks, or play and pause with taps and swipes. The design change in Sony WH-1000XM3 is the shape of the headband. It is more like an oval in shape. The 1000XM3 does feel a little more premium. The leatherette found on the 1000XM3 headphones feels very synthetic and falls short when compared to other premium ANC headphones like the Bose NC 700 or the Sennheiser Momentum 3. These headphones are big head approved because they do not have an exaggerated amount of clamping force. These headphones have decent build quality. The body panels on these headphones feel denser and the earpads are not very wide. This headset is lighter and more comfortable than the past versions.1000XM3 has touchpads and Sony's touchpads are one of the best ones out there. They're easy to use and they're very accurate. So you shouldn't worry about using touch controls on these headphones.
Features
Sennheiser Momentum 3 Wireless
The first new feature on these headphones is when you unfold them or collapse them they'll power on or off but you won't be able to store the Momentum 3's on a headphone stand if you want to. Another new feature the Momentum 3's have is that they have tile integration. So you can use your phone to track your headphones down and you can also make them a ring and vibrate using a built-in tile integration technology. This is a feature that these headphones have that no other headphones have, ie integration with tile. So that means that you can find these headphones if you misplace them somewhere in your home. These headphones also have automatic on-ear detection. So when you take these headphones off they'll automatically pause your music and when you put them back on they'll start playing again. Sennheiser lets you turn it off which is a good cause. Some other headphones out there that also have this feature don't let you turn it off. Sennheiser Momentum 3 Wireless comes included with a full length 3.5 to 2.5-millimeter audio cable, a full-length USB C to USB C cable, and a USB C to USB A dongle just in case you don't have a computer or wall adaptor with a USB C port. When it comes to Bluetooth connectivity, these headphones are rocking Bluetooth 5.0. But more importantly, they can be connected to 2 devices at the same time. So you can hot-swap from one device to another which is a big deal because simulations multidevice connectivity still isn't standard. These headphones do not have an on/off switch. So they turn on when you open them up.
Sennheiser Momentum 3 Wireless also has active noise-canceling in addition to the passive. So when you put them over your ears you're gonna get a passive noise experience. When you turn on active noise-canceling it is going to enhance the blocking of noise around you. It has three modes that you can configure to get different levels of active noise-canceling. The first mode is the anti-pressure. If you ever find that when you turn on active noise-canceling you get pressure in your ears or your head this is something that you'll be able to use. The second mode is anti-wind and then the last setting is Max which is maximum noise cancellation. They also have four mics that pick up the noise around you and cancel it so you can get the best audio experience as well as drown out any kind of external distractions. The headphones also support transparency mode or ambient mode. All you have to do is push a button-down and you're gonna be able to hear everything around you. But the hearing isn't super hearing. It is natural hearing, so you're gonna hear everything around you. It is not augmented, but you can install the app because the app will give you the ability to hear everything around you while listening to music at the same time. In the app, first of all, you can determine if your active noise-canceling is on and you can do some adjustments. You can also work with transparent hearing. You also have an equalizer which you can adjust more bass and treble. You can also go into this app to get your firmware update. You also have the function of turning on the smart pause.
Sony WH-1000XM3
The noise-canceling in Sony WH-1000XM3 is now even better than before and does a great job of muffling crying babies, almost eliminating the rumble of the airplane and train engines. The 1000XM3 still has the best performing active noise cancelation as of mid-2020. This is impressive because there have been a lot of competitors that have come out ever since the 1000XM3's were first released. These almost completely isolate you from the outside world, but crucially only when you want them to. Hit the button next to the power toggle and you can activate ambient sound mode which pipes in a little bit of noise from the outside world alongside what you're listening to. 1000XM3 have quick attention where if you cover their touchpad they'll lower the volume of your music and let in all of the ambient sounds so that you can quickly talk to someone without having to take your headphones off and when you let go the headphones, it will go back to normal. If you want to hear something specific like an announcement on a plane or train you just press and hold against the touchpad. Your music ducks down, the outside audio comes in at full volume, and when you're done the crossfade happens in reverse which is genius. While you're on a plane you can use the Sony headphones app to optimize the noise-cancellation, not just for the noise, but for the different atmospheric pressure when you're at altitude. 1000XM3's have an active ambient mode meaning that they will actively block out sudden spikes in loud noises preventing jump scares and instead of blocking out noise, they'll let noise in so that you can still be aware of your surroundings when you're walking around the city, or if you're watching tiger king at home you can still hear when someone calls your name. With the ambient mode on these headphones have zero hissings in the back. It sounds natural and does a good job of rejecting wind noise when walking outdoors. It can only be connected to one device at a time. When it comes to watching movies or videos on your phone, these headphones have zero latency on both iPhone and Android devices when using apps like Netflix, Disney Plus, or HBO Now. These headphones still have an audio jack. The USB C ports an all of these headphones are strictly used for charging. You can't use the USBC port on these headphones as a wired connection like you can with some other headphones out there like the Sennheiser Momentum 3 or the Bowers and Wilkins PX7.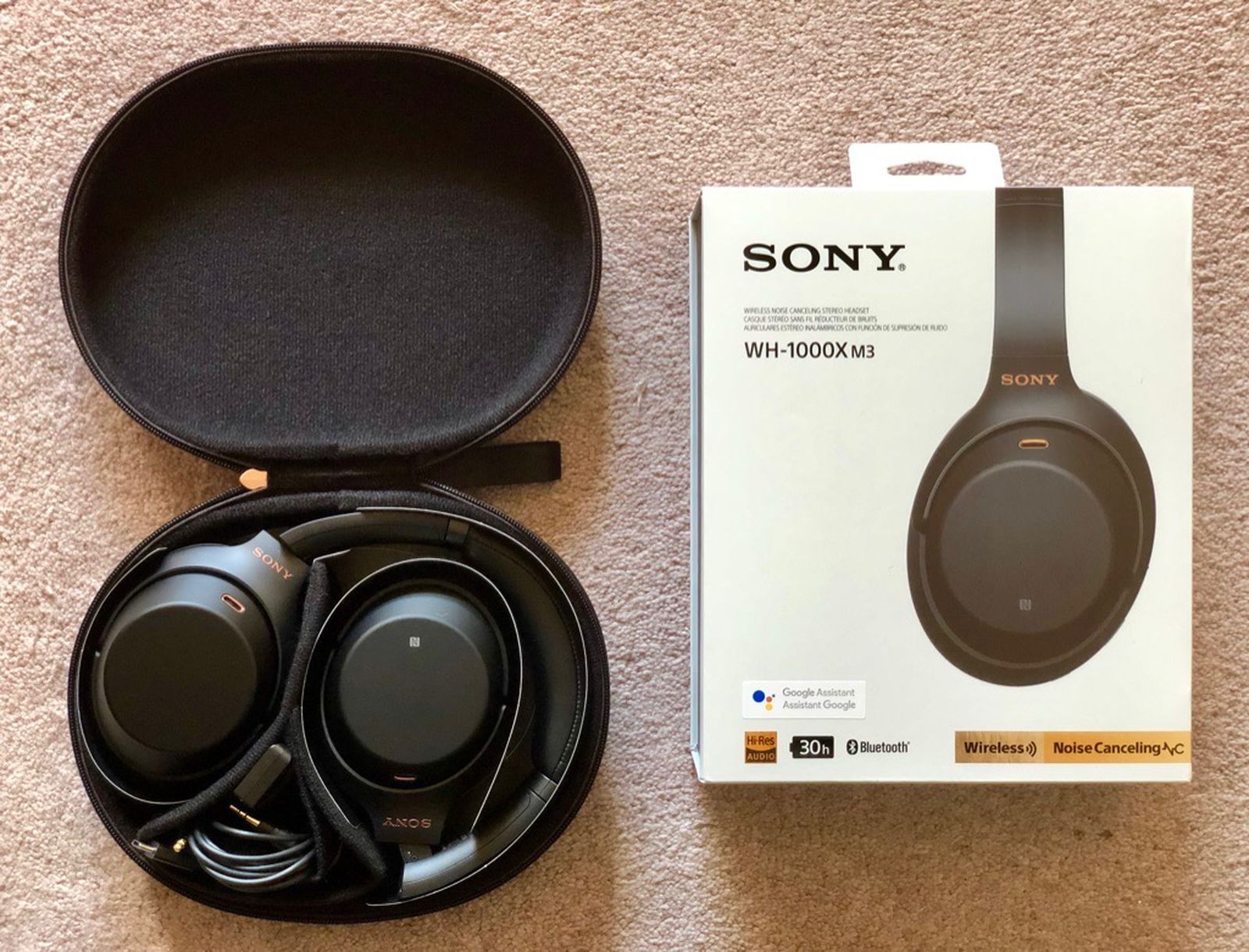 Battery Life
Sennheiser Momentum 3 Wireless
Unfortunately, the battery life on these headphones is outright disappointing given their price point. These headphones have an advertised battery life of 17 hours which is actually 5 hours less than their predecessor. It goes up to 13 to 15 hours depending on the volume level and the features that you use this it's staying really close. They do have quick charging technology. With the quick charging technology, you're gonna get1.5 hours of usage in 10 minutes of charging, which is pretty great. But let's face it, if you're looking at Sennheiser, you're looking at it because of the audio quality not because of the battery life. The Momentum 3's charge via a USB C port which means, if you're an Android user you can charge your phone and headphones with the same cable which is nice but a 17-hour battery life on a pair of expensive headphones in 2020 just is not actable.
Sony WH-1000XM3
Sony has now moved from USB-B to USB-C charging. Thus you can use the same cable for charging your phone and headphones. The 1000XM3have an advertised battery life of 30 hours and according to the paperwork, these can also quick charge. Plug them into a power source of 1.5 amps or greater and you get five hours of charge in 10 minutes. But these last so long that you don't really need to top them off all that often. If you use this for straight six hours from a full battery, you will have only used 20% of the battery. Sony WH-1000XM3 gives up to 30 hours of battery life with ANC on. Thus it has truly amazing battery life for its price tag. You can charge it once to full and go for a week without having to charge it again. But if it does go out of charge and you need it, charge it for 1 minute and you will be good to go for another 5 hours. Thus compared to other headphones, Sony WH-1000XM3 has longer battery life.
Audio Quality
Sennheiser Momentum 3 Wireless
These headphones have support for high-quality audio codecs like ACC, APTX, and APTX Low latency. The Sennheiser Momentum 3s sound amazing. You have great bass and great mids and highs. Their sound signature is fantastic. It does favor the warm side and you have an equalizer that you can use to manage things. What you will really like about these is the clarity regardless of what you're listening to. If you favor things with bass and things that have mids and highs or you're more focused on the high side you'll love these as you can do some adjustments. You won't hear any of the audio drownings out of any other parts. So it has a really wide sound signature. They do live up to the Sennheiser brand. Everything is present and it is very immersive. The soundstage reproduces everything well. Sigrid raw starts out with vocals and then there is bass that comes in and comes to a point just a couple seconds into the song where you actually hear the bass coming in because it starts with a vocal and then booms the bass comes in and the bass sounds like thunder. It sounds like one of those big drums which go boom. It is so immersive and the soundstage on these is great. In midnight blues also when the bass came in the voice is not missed but the bass is just there which is nice and present. In False confidence from Noah it starts with one voice then we have some other voices coming in and then we hear some more instruments and you can tell every single instrument as they come in. It has fantastic audio quality.
If you're an Android user you're going to have zero-latency across to the board when watching videos on your phone and if you're an iPhone user these headphones are good for watching Netflix or HBO Now on your phone because they don't have any latency issue either. However, they do have a noticeable latency to them when watching Youtube videos on an iPhone. These headphones do have an adjustable EQ but these headphones sound best when used in their default setting. These headphones get significantly louder than both the Bose and Sony's. The ANC on the Momentum 3's is overall okay cause there's very minimal cabin pressure which you don't feel when you're playing music and it also doesn't change how your music actually sounds. The Transparent mode on the Momentum 3's is also good because it sounds natural and there's no background hissing. So it is not going to be distracting when watching a quiet scene in a movie. However, Sennheiser's transparent mode pumps in everything. So if loud sound happens around you it is going to be amplified through the headphones which ultimately could lead to jump-scares. But you can also set transparent mode on these headphones to pause your music whenever you toggle the switch. So you can quickly talk to someone without having to take your headphones off and then when you toggle the switch back again the headphones will go back to playing music.
Sony WH-1000XM3
The Sony WH-1000XM3 has LDAC, APTX, APTX HD, and AAC support. Sony WH-1000XM3 has a warm presentation, with a smooth mid-range and elevated lows. These headphones connect to Sony's app to tweak other elements of the sound stage and you can customize their EQ's and make them sound however you want. If you like a bass-heavy EQ you can do that or if you like a neutral EQ you can also do that. But app or no, these deliver rich, powerful sound that'll satisfy even the more discerning ears out there and it works well for most of the music genres. The only complaint of the sound department is that these tend to lean on the bassy side when you're plugged in wired mode. The 1000XM3 also has a decent amount of physical bass to them and they should be able to satiate most people. The microphone quality is an area where Sony has always struggled. The 1000XM3's sound fairly muffled. Phone calls through this headset are just not great. Your voice to the caller will either sound distant, muffled, or they can hear their own voice echoing back.
Conclusion
Overall, the Sennheiser Momentum 3's meet the basics to stay competitive for ANC headphones in 2020. They have USB C charging, they have okay active noise cancellation, and they have a transparency mode that meets the basic. It sounds natural and there's no background hissing but 17-hour battery life is just a huge letdown. The Momentum 3's make up for it with their build quality, sound, and wired connectivity options. The real leather on these headphones really does feel better than the synthetic leather found on other headphones. These headphones are a great candidate for Android audiophiles. Sony WH-1000XM3 has touch controls, one-handed muting, ambient sound mode, USB-C connector. They may not have quite the comfort of the Bose or the elegant style of the Surface headphones but it has the best noise cancellation. Thus if you are interested in the best active noise cancellation then obviously you are better off with the 1000XM3's. In conclusion, Sony WH-1000XM3 is the better buy because it has better battery life, better carrying case, and the best noise cancellation.